Eltete TPM is global carton board refiner
The website and project Slip Sheet Eltete concern Slip Sheets and their handling. However, Eltete TPM would also like to present other pallet solutions. Eltete TPM packaging and pallet solutions are well-known for their high quality and strength. Our solutions are user-friendly, 100% recyclable and accepted anywhere in the world.
Eltete presents pallet solutions 
Eltete pallets solutions are designed to suit your needs. All our solutions are light, strong and 100%-recyclable. They are not subject to the regulations of ISPM 15, so do not require treatment like wooden packaging does.
Carton pallet APPA
Our carton pallets have been tested and approved for the most demanding conditions. The APPA carton pallet is a perfect alternative for wooden, plastic or other pallets. The biggest advantage of an APPA carton pallet is its light weight and purchasing cost. Eltete´s carton pallets are a combination of honeycomb board and strong palletrunners, which are all made from 100% recyclable material, so are ideal for export shipment.
APPA carton pallets have been tested in the laboratories of Innventia, a world leader in R&D for the  pulp, paper and packaging industries.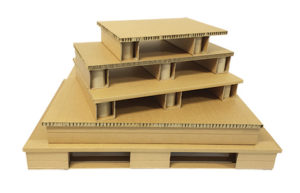 PallRun and BoxRunner
Pallruns and BoxRunners are excellent alternatives for optimising your shipments. A PallRun has a strong solid board structure, but is still very light-weight and resistant to humidity. It is a 100%-recyclable cartonboard pallet foot for replacing wooden pallets.
PallRuns can be combined with different surface top boards such as honeycomb-, corrugated- or chip board. It is also possible to attach them directly to the product.