A New Possibility for Your Supply Chain
Palletless handling, or slip sheet handling, shifts goods without wooden pallets. The wooden pallet is replaced by Slip Sheet. The Slip Sheet is a thin sheet made of wet-strengthened, high-quality kraftliner. The slip sheet is also known as a transfer sheet, divider sheet or tear sheet. The slip sheet is handled by a special attachment called a push pull. This push pull attachment can be easily added to any forklift.
Eltete TPM Case Study: Save Income and the Environment
One of our customers had been searching for savings in exports. Their goods are packed in small boxes. These boxes used to be transported on 3,000 wooden pallets in 2014. Those pallets were shipped in 52 containers. At the end of 2014, the management of this company decided to incorporate slip sheets in their shipping, instead of wooden pallets. They shipped the same volume of goods on 3,000 slip sheets in 44 containers in 2015. That's eight shipping containers less.
As a final result, this customer gained substantial direct savings on pallets (83%) and transportation (15.4 %). As a part of their transition, our customer had to invest into two Push Pull attachments. The cost of those Push Pull attachments were completely made up for in 9 months.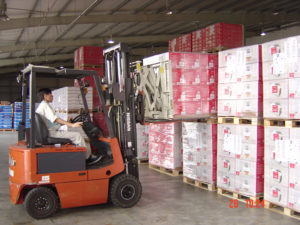 See the savings in numbers
The cost of 52 exported containers was 234,000 € and the cost of material was 21,600 € in 2014.   Overall, our customer paid 254,100 € to transport 3,000 wooden pallets in 2014. The cost of 44 exported containers was 198,000 € and the cost of material decreased to 3,672 € in 2015. Overall our customer now is paying 201,672 € to transport the same volume of goods.
This company reduced their export expenses by 52,428 € and obtained other benefits. This company reduced their waste on material, and they created less strain on the environment by reducing the number of vehicles needed to transport the reduced number of containers.