The article below focuses on passive logistic elements. The passive elements are units and pieces that can be handled and stored. ELTETE TPM wants to stop people thinking about only using wooden or plastic pallets as the passive elements. These elements can be Slip Sheets.
Wooden pallets
Wooden pallets are the most common elements for handling goods. The best-known type of wooden pallet in Europe is the EUR type.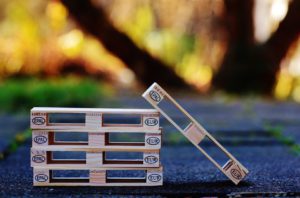 EURO pallet type – EUR
The European standard UIC 435-2 measures 1,200x800x144mm. The weight of a wooden pallet is approximately 12kg and carrying capacity 1,500kg. Wooden pallets are made of spruce, alder and oak. They have nine feet connected by three wooden planks for better stability. The European standard states that 78 nails must be used to assemble a EUR pallet.
The pallets can beinfested by pests, so they must be heat-treated in accordance with International Plant Protection Convention – IPPC. The most important standard is ISPM15.
Slip Sheet pallets
The Slip Sheet pallet has a carrying section measuring the same as a wooden pallet – 1,200x800mm, and a handling part of 75mm-wide tabs (channeling) for handling by Push Pull attachment.
The number of tabs and the dimensions of Slip Sheets vary. The most common are two tabs and one corner cut. See picture above.
Slip Sheets are made of kraftliner and weigh around 600g. They do not contain nails, making handling  easier and safer.
A Slip Sheet is made of multi-laminated kraftliner, which is not subject to ISPM 15 regulations, and the thickness of a Slip Sheet is no more than 1.5 mm. All wood-based materials of a thickness greater than 6mm used for shipping goods between countries must be fumigated or heat-treated against disease and insects, which can affect ecosystems.