Generally, slip sheets are a cost-saving replacement for wooden pallets. A slip sheet is a thick pallet-sized sheet, which is manipulated by Push-Pull attachment. A slip sheet can be made of corrugated cardboard, kraftliner or plastic. Generally speaking, corrugated cardboard slip sheets are not tear-resistant and lose their quality in a humid environment. Kraftliner slip sheets are tear-resistant, work perfectly in a humid environment and can be enhanced with a PE coating to have better water-resistance. Plastic slip sheets work as well as kraftliner slip sheets, but are much more expensive.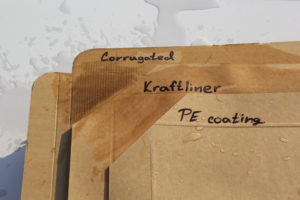 Plastic slip sheets
Plastic slip sheets are made of recycled polyethylene resin. They are 100% recyclable and offer a variety of surface textures. They are used in wet-conditions and in freezer and refrigerated environments.
Kraftliner slip sheets
Eltete TPM offers high-quality kraftliner slip sheets. Eltete slip sheets are made from multiple plies and strong kraftliner board. They are multi-laminated so have the same qualities as plastic slip sheets. They are tear-resistant and have a high tensile (pull) strength even in very wet conditions. Eltete TPM also offers additional PE coating of 15 gr/m2 on one or both sizes. The PE coating enhances the water-resistance of the slip sheet.
Eltete TPM can offer an adequate alternative to plastic slip sheets used in demanding environments such as in freezers and fridges.